Last Updated on September 13, 2022 by Kuldeep Bisht
Are you looking to buy a printer for your home or office but confused with the variety of options available in the market?
Don't worry this ultimate printer buying guide is going to help you to find the best printer as per your need and budget.
I have a few years of working experience with printer repair and service as I was a computer engineer sometimes back. That knowledge helped me to buy the best printer for my office. I have researched over the internet about printers' bestseller reviews and complaints. Therefore, I made up a top list of every popular type of printer.
I have done 100s of hours to research and understand advanced technology in printing. Hereafter, I wrote this buying guide to find the best printer for your home or office use.
The best printer is which fulfills your printing needs and comes within your budget.
As per my need, I was looking for a good Ink Tank printer for my office work. Earlier, I was using a home Deskjet printer which was making my print cost higher. Also, it couldn't complete my office printing need. I decided to buy an affordable printer for my business printing needs, like color printing, photocopying, and scanning. Though, I am still using my old HP Deskjet printer for scanning only.
Let's explore the printing market and devices and how you can find the best printer in India.
I have written an ultimate printer buying guide for all common types of printers in India which will help you to make the right printer choice.
Let's start,
Ultimate Printer Buying Guide for Home or Office
Buying a new printer is a very daunting task as there are countless choices to choose from. Nowadays, the printer is an essential part of the professional and personal world. In the professional world, businesses use printers to print various documents. And, in personal life, people are buying printers for their children's home assignments, photo printing, and many other uses.
What is a printer?
A printer is a machine that generates text and images on a physical medium.
In other words, A printer is an output device that helps in generating the output of computer data in the form of graphics on paper. Printers are digital text writing and color drawing devices.
Primary Types of Printers
There are two primary types of Printers, which are as follows:
Impact printers
Non-impact printers
Impact Printers
An impact printer usually forms the image print by pressing a ribbon of ink on paper with the use of pins or hammers. It makes direct contact with the paper. It is a slower type of printer and types one character at one time.
An impact printer is further subdivided into characteristic and line printers.
Characteristic printers include dot matrix printers and daisy-wheel printers.
Line printers also include chain and band printers.
Non-impact printers
The non-impact printers do not have hammers to strike the paper to produce characters on paper. They are laser-based and used for office and home uses. A non-impact printer includes thermal, laser, and inkjet printers. 
Difference between Impact and Non-Impact printers
A chart of the difference between impact and non-impact printers.
| | |
| --- | --- |
| Impact Printer | Non-Impact Printer |
| Print while striking on a piece of paper. | Print without striking on the paper. |
| Prints by hammering metal pins or character sets. | Print by dropping ink in any form. |
| Using Electromechanical devices. | Not Using any electromechanical device. |
| Print at faster speeds around 250 words per second. | Print at slower speeds around 1 page per 30 seconds. |
| Produce Single Color | Produce a Variety of Colors |
| Includes Dot-matrix printers, Daisy wheel printers, and line printers. | Includes inkjet printers, photo printers, laser printers |
| Noisy | Work Silently |
Also Read: How to Find the Best Water Purifier in India
Following are some common types of impact and non-impact printers.
List of different types of Printers
You will find various kinds of printers in the market that have their own specialty. But for personal or professional use, you have to choose it according to your usage and budget.
Have a look into different types of printers from which you can choose your best according to the work and need.
Dot-matrix printer
It is one of the oldest forms of printer, which is still available. In these, the images and text are drawn on paper with tiny dot patterns with the help of print heads. It uses 9 to 24 pins print heads that produce a particular pattern of the dots on paper.
A dot-matrix printer, which has 24 pins is better than a 9 pins dot-matrix printer. 24 Pins creates more patterns, bright visible characters, and high-quality print.
It generally works on the basic principle of the more the pin; the clearer will be the pattern. The pins will form a pattern after striking into the ribbon of ink when they move from left to right and right to left. The users with a dot-matrix printer can also produce colored output.
You can say that these printers are very cheap and can function in every condition.
Benefits of Dot matrix printer
Inexpensive
Prints with the speed of 600 characters in one second
Least maintenance involved
Performs well in both cold and dry conditions
Daisy-wheel printer
It is a quality type printer of a typewriter. The name of the printer is daisy because its printing mechanism resembles the petals of a daisy at the end. It forms solid line prints on paper. The hammer or pins strike a petal that contains character against each ribbon print.
Benefits of Daisy-wheel printer
Low cost
Prints only 55 characters in one second
Low maintenance cost
Line printers
Line printers are best for business purposes, where a massive amount of printing material is required daily. These printers print the character in a line pattern. It usually prints one line at a time. It helps print more than 1600 lines in a minute.
Benefits of the line printer
More durable and low cost
Less harmful to the environment
Low printing cost and effective
Drum printer
The drum printers usually consist of a cylindrical and solid drum, which prints the characters on paper in the band pattern. It creates some print positions around the drum that equal pages available. It generally prints up to 132 printing character positions. The hammer rotates along with the drum and strikes the paper and along with the ink ribbon. One rotation prints one line.
Benefits of Drum printer
Affordable
High speed and print up to 2000 lines in a minute
Low maintenance cost
Performs in both wet and dry conditions
Chain printer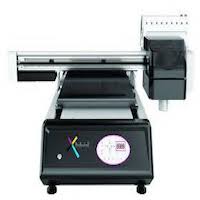 As the name is indicating, the chain printer uses a chain printing character that is wrapped around the two pulleys. It also forms one hammer for a single printing position. The hammer of the printer strikes the page which presses against the paper and ink ribbon located on the page. The impression will be left on the page. It prints the characters with a range of 2500 characters in a minute. This printer is a good choice for printing business purposes.
Benefits of chain printer
The continued chain printing pattern 
Low cost 
Least maintenance 
High-speed printer and prints up to 2500 in a minute
Band printer
It is quite like the chain pattern printer, but it uses a band instead of a chain pattern of printing. Moreover, it has only a few hammers. The band printer consists of steel bands, which are divided into five equal sections. The hammers are mounted on a cartridge that moves through the paper in the correct position. The character can rotate into a place and also stick with the hammers.
Benefits of band printer
Affordable printer
Font style can also be changed easily only by replacing the chain
Low cost of maintenance
Colored prints
Laser printers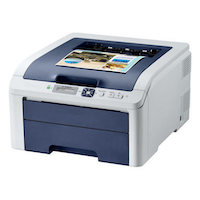 Laser printers are silent as they use laser beams for printing rather than hitting with hammers. These printers work as photocopier machines. It reflects the laser beam and delivers efficiency, high-speed, quality images, and text as well.
It works on non-impact photocopier technology. Furthermore, it does not need direct contact with the paper. The laser light alters the electric charge over the drum, which is then rolled through a reservoir of the toner. The toner transfers the ink to the paper by a combination of pressure and heat. 
The main feature of the laser printer is its resolution power, which ranges from 300 dpi to 1200 dpi. A laser printer is useful in printing colorful graphics with significant speed. It usually ranges from twenty pages of text per minute. It prints about 40 characters in a second.
According to the usage, you can buy both colored and black-white laser printers. Yet, it is very expensive compared to ordinary monochrome printers.
Benefits of laser printers
High speed
High-resolution power
Prints twenty pages per minute
Affordable
High paper controlling capacity
Silent printer
Solid Ink printers
Solid ink is the name of technology, and it does not use ink while printing. The solid ink printer prints images with the help of a unique ink technology pattern and is designed for saving money and space.
The solid ink sticks melt during the printing process. It is a method of producing more vibrant color tones for printing on paper.
Benefits of Solid ink printer
Affordable
Helpful in producing vibrant tones of colors
Ink manufactured with vegetable oils and non-toxic color components
Environment-friendly and compact design
Small storage need
Low cost of maintenance
LED printers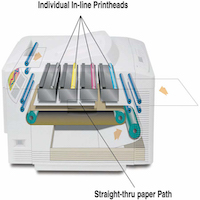 LED printers are very much like laser printers, but they print with the help of a light-emitting diode. It is a more reliable and affordable printer. They are cheaper than laser printers. Also, much more efficient as compared to conventional printers.
They print without contact with the paper and without making noise. While printing, the LED bar pulse-flashes around the whole page, including width and length.
The best part is, that it is very durable and worth long business printing work. It is an ideal choice for office purposes and home purposes.
Benefits of LED printers
Affordable and efficient
No warm-up requirement
Work without noise
3D printers
It is one of the most innovative printers that is developed in printing technology. With the advent of technology, 3D printing becomes much more efficient, effortless, and very affordable. It is used for both domestic and business purposes.
The 3D printer is a device that delivers three-dimensional objects. It provides high-quality 3D images and has the power of full customization. Moreover, it is capable of obtaining 3D colorful prints and designs. In the 3D printer, high-quality resins are used for getting colorful object prints.
Benefits of 3D printers
Prints in the three-dimensional structure
Requires no warm-up times
Full customization capacity
Uncountable prints
Disadvantages of 3D Printers
High maintenance costs and resins costs
Technology is still developing
Multifunction printers
They are also called all-in-one printers. This means they are capable of scanning, copying, printing, faxing, etc in one go. Multifunctional printers allow many functions that simplify uses for domestic and business environments. It is best for business use and can complete the task within less time.
Benefits of Multi-function printers.
Very cost-efficient as it is multi-functional
Multiple works in one time
Power-efficient and free you from installing numerous devices
Very compact and attractive designs
InkJet printers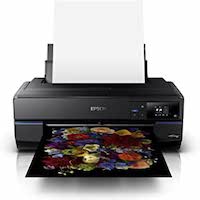 The inkjet printers generally work on the basic principle of a dot-matrix printer. They formed images with dot patterns. Dots spray on the paper by the nozzle or a jet. The nozzles usually have droplets, which pumped out ink to create text and images.
Inkjet printers print with a speed of 250 characters in a second. The nozzle offers black ink for printing the text. But, colorful printing can also be done with Inkjet printers. There are three nozzles that constitute magenta, cyan, and yellow as prime colors. Many manufacturers also offer colored inkjet printers.
It absorbs on paper and dries very quickly. It combines high-quality print with a lower print cost per page. These inkjet printers are very much suited for both professional and domestic users. Inkjet printers produce high-quality images that are exceptional, smooth, and photo-realistic.
Benefits of inkjet printers
Greater speed
Produces photo-realistic prints
Needs no warm uptime
Best suits for business and home purpose
Disadvantage
High cost
Higher maintenance needed
A3 printer
A3 printer is capable of printing on A3 sheets. It is perfect for business printing where large-scale printers are required for printing on large sheets. It forms ample input trays, which makes the printing process quite simple. Moreover, these are available in both forms, inkjet as well as laser beam printing technology. It is highly effective in A3 printing.
Benefits of A3 printer
The capacity of printing on large sheets
Available with a wide range of printing options
It also allows the user for bringing outsourced prints back
Different types of printers help in taking prints and copies more efficiently. Many printers are helpful in printing objects with a high level of resonance. The advancement in technology makes you able to print in 3D patterns and colorful patterns. From the above-mentioned printer types, one can choose a printer that suits best for their work. Quality printing becomes more efficient and effortless with the invention of these printers.
Now it's time to know the factors that one must consider before buying any printer.
Also Read: Best Semi-Automatic Washing Machine to Buy in India.
Things to Consider Before Buying a New Printer
A few factors you should keep in mind when finding a printer. Some of them are as follows –
Cost
Cost is always the first factor you must be aware of. Nowadays, printers are very reasonable as they offer a 3-in-1 function. These types of printers are very much ideal for both home and business both. But consider various things like cartridges, repairing costs, etc. before buying.
Speed of the print
Speed is also an essential aspect that must not be overlooked if you want to achieve your target. Keep in mind that printers that print fast always deliver low-quality images. So, go for printers that offer high speed with perfect resolution.
Print Quality
Laser printers deliver excellent quality, but they are costly. But if you are using the printer at home, then inkjet printers might work best.
So, several things affect the print quality like printhead, driver, quality of the ink, etc.
While buying a printer, do not forget to check the printer's DPI (dots per inch). It shows how much accuracy the printer can showcase from the real image.
Connectivity
This is the primary factor that you must consider while purchasing a new printer. First, ask yourself what the devices you want to print from are. In reality, most printers in the market use wired technology to print things. But expanded printers have the capability to print via laptop, mobile phone, wi-fi, Bluetooth, etc.
Ink type
In printers, there are three standard ink cartridges arrangements i.e. two ink cartridges, four ink cartridges, and inkwells. Out of these three, inkwells are the best and cheap in the long run. But, you can also go for purchasing laser printers as they do not use ink. Instead, using toners to print. The best part is they always generate crisper images and sharper edges. So, think while you buy according to your budget.
Image Quality
The quality of an image is also an important factor that you should consider. If your company works in the designing niche, then you need high-quality graphic printing printers.
Paper size
It depends upon what kind of paper you want to print; you have to buy a printer according to that. If you need to print on cardstock and photo paper, you need a printer that only prints that type of image or photo. While buying, don't ever forget to consider the size of the paper you want.
Ink replacement cost
While buying a printer for both office and personal use, consider the cost of ink replacement. It is necessary to take up the yield from both toner and ink cartridge as it will make you estimate the total cost per page.
Laser vs. inkjet printers
In reality, laser printers produce high-quality images, and they are also expensive as compared to inkjet printers. So, think before you buy.
Type of function you want
Some of the companies or home users need a printer and photocopier. Some need an all-in-one printer that can scan, fax, and print. Hence, you must consider your requirements before purchasing a printer.
Scanner resolution
The scanner in the printer captures a small resolution of 1200*600 dpi, which is best for high-quality production. But, if the scanner offers 4800*4800 dpi, then it will deliver fantastic quality images.
Media-card slots and Pictbridge ports
If you want to print pictures with your inkjet printers, a printer model with media slots or PictBridge ports offers high convenience. But if you have such ports in the computer system, then there is no need for the duplicity of images.
Now you know the types of printers available in the market. It is time to find the best printer type according to your profession. So that, your work would not suffer, and it is affordable also.
Also Read: What is the Best Paper Shredder in India for Small Office?
Which Printer is best for my profession?
Which is the best printer for students?
The first thing to decide is whether you want an inkjet or laser printer. That you can decide as per your print need. Think if you need to print word documents, or photos, or want to use it for photocopying. So, it is also essential to consider the cost of the printer as you depend on your parent's income. Students might have to print long assignments to show them in college or school. A student needs fast and versatile printers that can take less time and are affordable.
How do I choose a printer for my home?
Ask yourself, What type of printer do you need; a standard printer or multifunction? The person who is working from home might only need a single-function printer. In reality, home users demand a lot more from printers. Home users looking for printers that have the ability to showcase everything without breaking the budget. According to the usage, countless printers can do your work at a reasonable cost. Inkjet printers and Dot matrix printers are good choices for home use. Some best printers for home use are:
Inkjet Printers
All in one printer
What is the best printer for photographers?
If you follow my blog then you know that I spend a little time Photography and capturing my travel moments. So, I used to print my beautiful photos to frame them. Like me, there are many photographers who want to print their photos for the showcase. You must understand a few things before buying a printer as a photographer, like: –
Functionality
Print speed
Portability
Print resolution
How do I choose a printer for Office?
When looking for the best small or big business printers, you need to weigh up several things like cost, efficiency, and longevity. Of course, you cannot get everything as a whole. So, think according to the requirements of your business and then find the best printer. Some, popular printer types for office works are:
Laser printers
LED printers
3D printers
Now, you came to know all about printers and I hope you've figured out the type of printer you need for your use.
Also Read: Review of Sony Alpha 58 DSLR Camera
What is the Difference Between Inkjet and Laser printer?
Inkjet printers are quite simple and lighter whereas laser printers are bulkier and heavy. Thus difficult to move from here to there.
Laser printers are said to be highly effective when you are printing texts but when it comes to images then nothing can beat Inkjet printers 
Cost-wise also Inkjet printer is quite less costly when compared to laser printers. The operational cost of the Inkjet printer is quite less. 
Laser printers are said to be quite faster when compared to inkjet printers. It might not appear beneficial when you are printing only a few pages, but in the case of high volume, this is highly beneficial. 
No warm-up time is required before printing in the case of Inkjet printers but in the case of laser printers, you might require some warm-up time. 
Here, I am sharing a list of best printers along with buying guide in popular selling printer types.
FAQ on Printers
Below are some popular questions and answers about different types of printers.
Why are there different printers for office and home use?
It was costly to use separate printers for multiple pc in your office. So the laser printer for office use can decrease your costs. The laser printer for home use comes at meager prices so that anyone can afford it.
Why should I choose a laser printer instead of an inkjet?
There are many reasons to choose a laser printer instead of an inkjet. Like printing speed, per-page cost, connectivity with various devices, and quality printing.
What happens when the toner is overloaded in the Laser Printer?
If the toner is overloaded, it will cause quality problems while printing, and some little marks on the paper may occur.
Should I buy a laser printer or an inkjet printer?
The inkjet printers are less expensive than laser printers and produce a better quality of printouts. It uses ink, and the laser printer works with a toner, which is more costly. So the inkjet printer is much better. 
What are some of the uses of an inkjet printer?
It is a printer for primary use where there is less printing needed. It will print a better quality image; the color will be more excellent than other printers. Apart from this, the low initial cost and the speed are add-ons.
How to Prevent Inkjet Smearing?
To prevent smearing, always give enough time for the ink to dry, don't go for cheap-quality Ink, and choose the right pair of ink and paper. Many Inks are efficient for a specific paper.
When should I change an inkjet printer cartridge?
It can be used until the bone gets dry because the ink keeps the resistor in the print head fresh. Even the printer indicates by its printing quality that ink is going to be over, but don't wait for the bone to get dry as it is harmful to the machine. 
Why is all in one printer better than other printers?
If one can find multiple functionalities in a single machine, then it is better to buy it. It's better than buying different tools for different tasks.
Can I print documents from my phone all in one printer?
Yes, most of the best all-in-one printer comes with the compatibility features of smartphone printing. You need to have an internet connection and e print app for mobile printing purposes.
What is the maintenance cost of an all-in-one printer?
The maintenance cost of all-in-one printers is very low. You only need to refill ink cartridges for your printer. There is no maintenance cost for the scanner and copier features. If any physical problem arises then it needs to be repaired. 
Final Words
In the past days, there used to be just typical printers that print only black and white text. But with the advent of technology, printers have also become digitized. There are several types of printers in the market from which you can choose the best according to your usage and budget. But ensure that before buying any of the printers, you must consider the above things so that you do not waste your hard-earned money.
See the capabilities of the printer and your usage in order to get a high yield. Share this ultimate printer buying guide with the one who might use it before purchasing a new printer for home or office.
Do you have any questions about the printer brands, quality, and price? If you want me to review any specific printer model available in India then feel free to share your thoughts in the comments.