Last Updated on March 23, 2023 by Kuldeep Bisht
If you love to do SEO (Search Engine Optimization) by yourself or you are doing SEO for your clients. Then this ultimate free SEO tools list will help you to do your task better.
To know these SEO tools better just ask yourself:
How compatible is my website for the search engines?
Is my website user-friendly?
How good is my SEO score?
What are my website traffic stats?
How many backlinks do I have? Or so.
Do you have answer for these? Well, you can't exactly. You need some tools to answer these questions. Below I have categorized some Free SEO tools for you.
These SEO tools will help you to save your time and provide you the best SEO metrics that you can use to make an effective marketing strategy. And the best part of it is, most of them are free to use.
I have personally tested and used these tools and worked great for me.
Search Engines are getting smarter day by day. And, these SEO tools will be very handy in 2017 as well.
Check it out:
Keyword Research Tools
Starting with keyword research tools is great because every business needs a base. And keywords are an important base for every online business.
Below listed keyword research tools will help you to find the best keywords for your SEO campaign.
#1 – Google Keyword Planner Tool
Always, It comes first because the majority of the SEOs use this Free SEO tool to find keywords related to their website or business.
Google KW Planner tool gives you an estimated search volume including competition and bid ranges. This is a great tool for PPC as well.
#2 – Bing Webmaster Tool
Majority of online marketer ignore the power of Bing Webmaster Tool. Similar to GSC, Bing Webmaster Tool provides keywords, backlinks data and traffic insights. This is a nifty tool for competitor analysis as well.
#3 – Answer the Public
I loved this tool. A handy tool for keyword research and generating content ideas for your blog. The tool generates a user-friendly visual graph for your search query. You can download the image and excel file even without registration. The Best Part is, Its Free 🙂
The visual graph for the keyword "SEO".
Why SEO Related Keywords.
#4 – Google Trends
I always check my keywords on Google Trends to know whether I am using trending keyword or a dying keyword. This tool is cool and also let you compare two, three keywords as well.
Below screenshot of Google Trend shows comparison of "content marketing" and "SEO services". You can see that content marketing keyword has a growing trend and SEO services keyword has a continuous drop in search in last 5 year.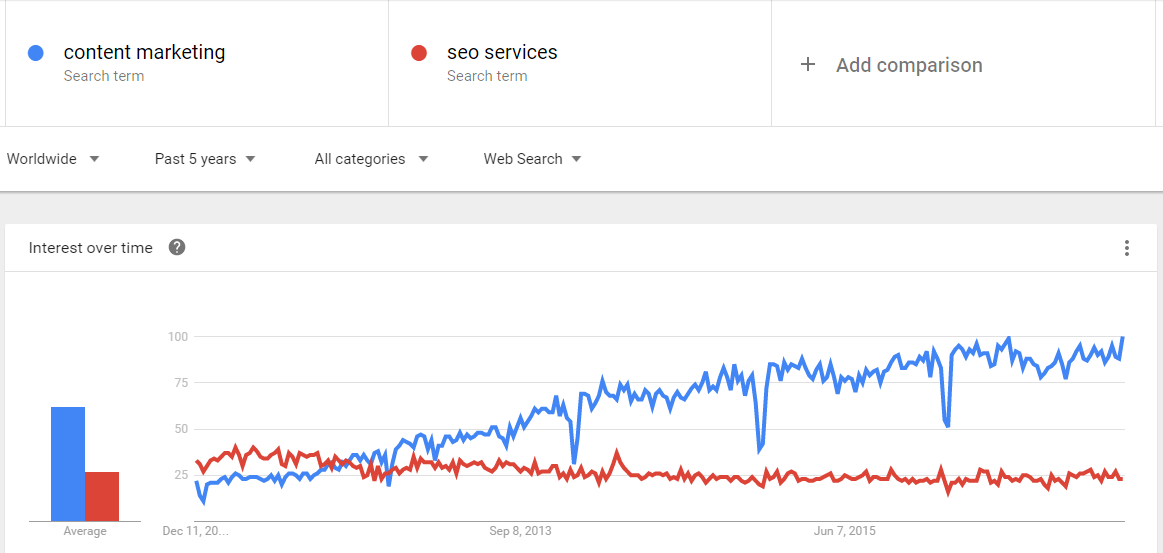 Scroll down to "Interest by region" section, which allows you to see which regions have peak popularity for keyword during a specified time frame. Also, check out related queries for the more keyword ideas.
#5 – Imforsmb Bulk Keyword Generator
Do you work for local business and want to find local keywords? Then this is an awesome tool for you. It gives local keyword ideas for local businesses like – Cleaning, Electrician, Interior Designers, etc. Also, you can export to CSV file for free.
#6 – Keywordtool.io
I can't forget to include this awesome keyword tool. It finds long-tail keywords which you can use to generate content topic ideas. This tool pulls out keywords data from Google Autocomplete results.
With a pro version, this tool works great for International SEO. You can find keywords in different languages. Pro version have lots of other handy features for SEO.
Also finds keywords from YouTube, Bing, Amazon and App store.
Bonus: –
Soolve.com is an alternative to Keywordtool.io but also suggests keywords from Wikipedia, Answers.com, and Yahoo.
#7 – Suggestions Keyword Finder (SEO Chat)
I use this keyword tool when I don't have any ideas on mind. I just search a random keyword related to my website and I instantly find lots of ideas. Do a level 3 search to find more relevant keywords.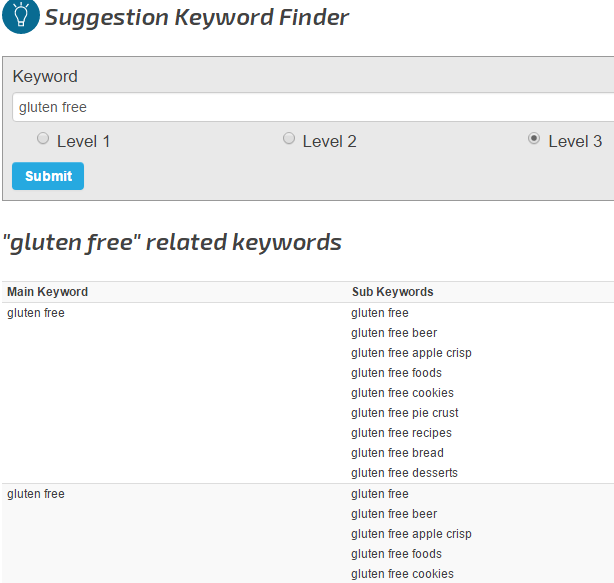 Just give it a try, it might be a handy tool for you as well.
#8 – UberSuggest.io
It woks similar to keywordtoo.io and soolve.com. I use this tool occasionally when I need to find question oriented long-tail keyphrases.
#9 – Can I Rank
The keyword research tools' list can't be end without including this awesome tools. This competition analysis tool is ideal for consultants looking to increase their ROI. It helps to analyze competition and optimizing content.
This is a bit similar to Keyword Difficulty tool but allows you to compare top ranking pages along with the competitors for your keyword. See below screenshots to understand this tool better.
A pro version comes with a lot of other useful features. I highly recommend using this tool only if you can afford it.
Other Keyword Research Tools
I have used some other free SEO tools for keyword research but I don't use them regularly. Have a look into them. These tools might work for you.
#10 – SpyFu.com
#11 – Keywordin.com
#12 – Buzzsumo.com
#13 – Seobook Keyword Suggestion Tool
#14 – Wordstream Free Keyword Tools
On-Page SEO tools
These tools will help you to analyze your website for speed, user experience, search engine friendliness, and reviewing title, Meta, h1 and other on-site factors. Basically, these tools will handle your technical on-site SEO issues. Here you go:
#15 – Browseo
A tool that help you to see your website with a Search Engine's eye. It'll show you exactly the way Search Engine Look into your website. I recommend running through Browseo tool once your website is live.
#16 – Analytics Spam Blocker
This is a free tool to block the referral or ghost spam traffic on Analytics. Those domains are in your analytics referral traffic. Spam bots (not human) add these domains via an unnatural click on other websites.
If you're technical enough to understand referral spam traffic then here are some ways to stop spam bots. If not, then this tool will help you to remove Analytics Ghost spam.
#17 – Google Analytics
Do you know this tool? I am sure many of you know it. It's a super cool free tool by Google that track your online presence, traffic, sales, etc. You must implement this tool in your website, blog, app, etc. In a sentence "This tool tells you about user's behavior".
#18 – Google Webmaster Tools
Similar to Google Analytics, It's again a free tool by Google. A tool that helps you to know your website strength, structure and how search engine is seeing your website.
In a simple sentence, "This tool tells you about search engines' behavior".
#19 – Google Mobile Friendly
A good tool to test user experience on your website for the mobile users. Also you can submit the result to Google. If your business is more related to the mobile services then pay attention to this tool.
#20 – Google PageSpeed Insights
Every internet user wants to see the results fast. So, website loading speed should be quick. Website speed is one of the most important ranking signals for the Google.
Use this tool to increase your website loading speed. It'll also suggest you the fixes.
#21 – GTmetrix
This is a free tool which helps you to optimize your website performance and speed. You must check your website on this tool once in a month. I highly recommend this tool to use and implement the suggestions.
#22 – Hreflang Tags Generator
Do you have an international business? 'Or' Do you do International SEO for your website? If yes, then this tool is quite easy to make hreflang tag (A language Tag) for your multi-language and multi-regional (country) websites.
Adding hreflang tag in your website helps search engine to know your target audience and gives you preference in searches.
#23 – Microdata Generator
A perfect tool to generate Schema.org tags for your website. It has an easy interface and a non coding person can generate the code with a click. It has location (Geo) setting feature as well. You can add Longitude and Latitude code to your location.
#24 – Google Structured Data Markup Helper
A better tool to understand and create structured data for your web pages.
#25 – Barracuda Penguin Tool
It is a free investigating tool to identify Google Penalty on your website. It analyses the website traffic and see the algorithm changes overlaid.
You have to provide access to your analytics account.
#26 – Varvy SEO Tool
I personally recommend this tool. Run your web pages once through this tool and know how well it follows the Google guidelines. The handy tool for site auditing and helps you to find technical issues, social shares, external links and more.
With the help of Varvy tools you can also check pagespeed issues and mobile SEO issues.
Now sharing some tools that will help you to audit your website and finding issues that matters in SEO ranking.
#27 – Webbee SEO Spider
A free SEO spider tool similar to Screaming Frog SEO spider tool but some extra features like results filtering and graphs.
#28 – Zadroweb SEO Auditor
A tool that will help you audit your website in a deeper lever.
#29 – SEOBook SEO Tools
A bunch of free seo tools by SEOBook.
#30 – Quick Sprout
An awesome tool to know the current status of your website and how you can improve it to grow your traffic.
#31 – Seoptimer Website Review Tool
A free tool that instantly tells you about seo, social, content, design and performance related issues.
#32 – Meta SEO Inspection Chrome Plugin
I am using this tool since I started learning about SEO. It is a very handy plugin that helps to overview a page for major SEO issues.
#33 – Open SEO Stats Chrome Plugin
Again this is a very handy chrome plugin that I personally use. It helps me to review a page for title, meta, links, social, AR, indexing, and many other factors.
Content Optimization Tools
#34 – FAQ Fox
An attractive tool to find content ideas and trending topics related to your industry. It grabs the top asking questions from the web via sites like Reddit, Warrior Forum, etc. You can use your preferred sites as well.
#35 – Keys4up
It is a semantic keywords research tool and useful to optimize your website content. As you know LSI keywords are useful for content and it helps you to find LSI keywords easily.
#36 – LSIgraph
Similar to the keys4up, it'll also help you to find out LSI keywords.
Link Building Tools
Links are the most important part for the web and of course for the SEO. Below I have listed some tools that will help you to make your linking (internal and external) better.
#37 – LinkMiner
Like many other tools, this chrome plugin check the broken links on any page. But this tool also shows you links on a page has; on Google SERPs.
#38 – Disavow.it
You need to disavow links in order to be safe from spam links. This nifty tool helps you to build disavow file and here is how to submit disavow file on Google webmaster tool.
#39 – Similar Content Prospecting Tool
This tool helps you to find out relevant content and link prospect. You can download the results in a csv file and can outreach them manually or export prospect to Buzzstream, Ninja Outreach, etc.
#40 – HARO – Help a reporter out
Do you want to get links form high authority sites like NYtimes, Wall Street Journal? HARO will help you to connect with journalist. You need to give a nice quote to journalist and they'll reward you with a mention or link.
#41 – YourOutreach
An automated tool for the prospect outreach and content marketing. The free plan will allow you to find 100 prospects for 1 campaign and project. This tool will save your time and automate your email communication.
#42 –  Ahrefs Tool
I use this tool to understand the backlink profile of a web page or domain. The free version is enough to explore the basics of any domain.
#43 – Duplichecker
I use this tool all the time to check duplicate content issue. You can check multiple pages or content with an account. It is one of the most dependable anti-plagiarism web software good for the SEO and content optimization.
Bonus Tools:
Here are some more free tools that will help you to fix your small things like – metrics check, search check, rank check and many other useful things.
I recommend you to watch all these tools.
#44 – Search Latte
To customize your Google search with a single click. Good for the SEOs.
Bulk Metrics Checker, URL trimmer, GA event tracking code generator, etc.
#46 –  Snippet Optimizer
A handy tool to optimize rich snippet for your search results. Use this tool if you want to increase your website CTR.
#47 – Slerpee
Do you want to see how your website looks in Google SERPs? Use Slerpee for this. It'll help you to improve your CTR and view on-page keywords and density.
Do you have any another tool?
I have mentioned all the tools that I use to do SEO for my sites and client websites. If you know any other good free SEO tools then feel free to share it with others via comments below. I'll include them in the list above.
Feel free to share this huge Free SEO tools List to your social media network.