Last Updated on May 8, 2019 by Kuldeep Bisht
Did you know that expired domain names are fantastic for you? Especially, when you need it for SEO? Finding expired domain names, with exact match keyword, backlinks, search volume that increase your search engine value.
You can use valuable expired domains for your newly invented online money-making site idea, a private blog network, to sell something, etc.
It is likely that the previous owners of that expired domain had a legitimate business, and therefore these domains will be having very useful backlinks and search engine value like Domain Authority, Trust, etc.
Below, I have listed top 6 easy ways to find expired domains names with high traffic and links.
#1 ExpiredDomains.net: Examine broken links for you
ExpiredDomains.net makes it incredibly easy to find expired domains. The website even makes it easier for you by examining the broken links on your behalf.
What do you have to do? Just click buy!
Just create an account for free at ExpiredDomains.net and click on 'Deleted Domains' section to find expired domains. Since the domains are already scanned and analyzed, you can rest assured that it is spam-free.
This website provides a sizable list of expired domains. Obviously, you are going to do some filtering, and for that, you can click on "only with Dmoz entry" or "no fake PRs."
Quick Tip – Look for domains that have been recently dropped and has a high number of backlinks and domain pop (DP) rating.
#2 Juicy Domains: This is really where the juicy domains are at
Finding powerful domains is made easy with Juicy Domains. They make use of anti-spam technology to make sure that their website features the very best domain names for your next project.
Are you sick of overpaying for spammy or weak domains? Juicy Domains have in place cutting-edge technology to conduct thorough backlink analysis, spam domain name filtering, domain authority filtering, trust & citation flow metrics and more.
You can find the top expired domain names from premium sources, such as Expired Domains, Domain Auctions, GoDaddy Domain Closeouts and more.
Honestly, This website is a thumb up!
Much like Expired Domains, but operates on a different database. The website allows users to browse domains without signing up.
But, to get more features, you will have to register and create an account with DomCop.
The first 7 days are free, after which you can sign up for the minimum $32 monthly plan. If you do a lot of domains buying, this registration fee will seem quite nominal.
You can browse through the list of domains, filter your search and buy high-ranking expired domains.
#4 Expert Domain Finder Plugin: Expired domain available for a registration fee
Would you be interested in getting domains that have backlinks from high authority websites, such as CNN, Wikipedia, and NYTimes?
With Expert Domain Finder plugin you can get such domains for as nominal as registration fees.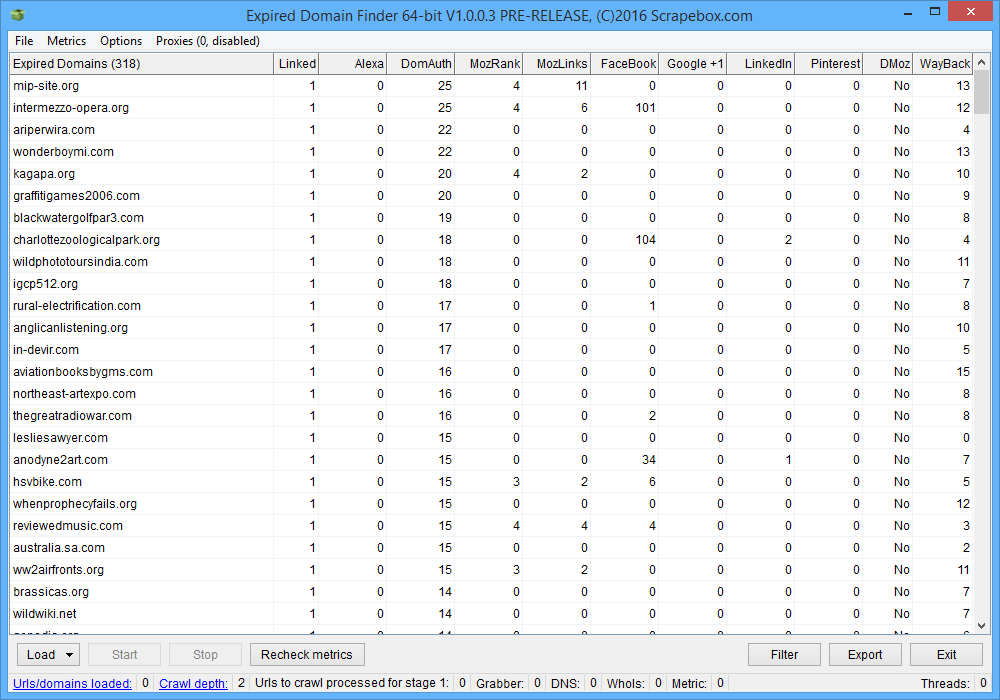 You can filter your search by choosing options like, "filter applied to extracted domains" or "filter applied to source URL's." Filtration is an excellent way to find high metric domains for building your new website or blog.
#5 FreshDrop: Centralized search engine to find expired domain names
By making use of pioneering technology, the 2007 company became the first commercially available centralized search engine for finding domain names across all the main aftermarkets and auction houses.
You can research the entire aftermarket spectrum of domain names with analytics from Yahoo, Google, AltaVista and more.
You can purchase expired domain names for Domain Parking, SEO, Blog Build Out, Traffic Monetization and so on.
To provide superior service, FreshDrop continues to collaborate with some of the biggest auction houses and aftermarkets including Namejet, Buy Domains, GoDaddy, Pool, and the list goes on.
At present, they analyze more than 8 million domain names. Do you think you cannot find your preferred domain name? Try it out!
#6 RegisterCompass: 3+ million expired domains at your fingertips
RegisterCompass boast of a database consisting of 3 million expired domains, 2.5 million in the auction and half a million are about to expire.
Of course, not all will work in your favor, and that is why they have fillers.
Sign up with RegisterCompass. You will have to pay for membership, which is about $37 a month.
If you have a long-term strategy, the registration amount will seem very small against the heap of expired domains that you can find here.
On the bright side, if you have made less than 25 searches in the first month, you can ask for your money back.
Domain Facts
Here are some important domain facts that you must consider before buying one.
Conclusion
So, what is your opinion about expired domains? Do you have any other suggestions on how to find expired domain names?
Share your tricks in comments and don't forget to forward this.